Big News…
We have two big announcements to share. These are so exciting and impactful that I couldn't wait another two weeks for my monthly email.
---
New School in Malafie
Thanks to a number of generous donors, we are building a brand new school in the remote village of Malafie. This village is in the mountains above Thoman. It is about a 2 hour hike directly above Pastor Mathurin's house and the school in Thoman. The views from Malafie are spectacular!
The idea for a school in Malafie started with several university students who hiked to Malafie near the end of 2017. After seeing the village and realizing the children had a broken down, one-room school, they developed a great desire to share the love of Christ there. The university student who was most interested was a guy named Zach.
Zach and some of his friends began raising money. Of course, they were college students and had limited funds. Nonetheless, over the last few years, Zach and his friends raised funds toward the building of the school. Recently, others have decided to help, and now the funds have been raised for the new school.
This proposed school will make a huge difference for the people of Malafie as well as the surrounding villages. The new school will not only provide much better educational opportunities for the children of Malafie, but can also be used for other purposes when school is not in session.
---
New Trade School in Galette Chambon
I am thrilled to announce that we will be opening a brand new trade school in Galette Chambon! This new trade school, called a professional school by the Haitians, will have five course offerings:
plumbing
tiling/tile laying
construction/electrical
cosmetology
culinary school
The school will meet on Saturdays in the morning and Sundays in the afternoon, three hours each day. All classes will meet in our new school next to the Hope Center.
Each class will hold 20-25 students. The complete program for each course offering is 12 months. A generous donor has agreed to fund the cost of the school for the entire first year. What a huge blessing and another step forward in the development and progress of Galette Chambon!
I love what Moliere, the Haitian leader of all our schools, wrote in his email about the need for the new trade school:
In this area, we have a lot of girls and boys who do not finish school because of their family situation, lack of funds to pay for the costs associated with school, and lack of understanding of the value and benefits of education. Because of this, they need an option to learn a profession. They cannot go to Port au Prince or even Fond Parisien to a professional school because they cannot afford the transportation. They need an opportunity to learn a profession locally without having to leave the village to do so. There are also many young people who do graduate classical school, but they do not have the ability to continue their education at a university either financially or intellectually. They have the capacity to learn, but not at the university level. Because of family financial needs, they need to find a way to earn an income more quickly in order to help their family. This village needs professionals of all levels in order to grow economically. We do have some students who have university potential, but we have many more who are in need of professional school. This is why I want BGM to start a professional school in our new school location.
We thank God for wonderful leaders like Moliere and generous donors who are willing to invest in the lives of our dear Haitian friends.
---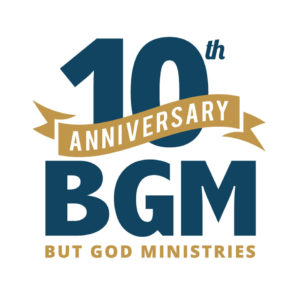 ---
Don't forget, our special 10th anniversary celebration for BGM will be on September 16, 2021 at First Baptist Madison, MS. We plan to have many of our Haitian friends in attendance as well as current and former missionaries.
More information to come, but for now, SAVE THE DATE!
---
Best Way to Participate
One of the best ways to get involved in our work is by joining our Givers of Hope. The Givers of Hope is a giving club within BGM in which people give the same amount each month. They give anywhere from $5 to $200 monthly.
It's easy to sign up. Just click
HERE
. Also, for more information about the Givers of Hope, click
HERE
.
Finally, I ask for your prayers for wisdom and energy for our Haitian staff, our Delta staff, our American staff in Haiti and the U.S., and our Board of Directors.
Can't Wait To See What God Does Next,
Stan Buckley
Executive Director