Bad News/Good News…
The world is a different place since my update last month. The bad news is that we are experiencing health concerns and an economic crisis in ways we haven't seen in a long time, if ever. Many people are concerned about their health, the health of their loved ones, and their financial stability.
In the midst of disturbing news, sometimes it's helpful to hear some good news. At BGM, we are still seeing good things happen. We are still seeing lives changed. Below are examples of two good things happening right now in Haiti.
Housing Boom!
I am thrilled to report that we have already built three new houses this year in Galette Chambon, Haiti. That means three families who were living in squalid conditions now have a safe, secure place to call home. Our missionary, Mickie Sapen West, recently shared the following:
"Several years ago, we were building a house in the back of the village in Galette Chambon and Pepe David took me to see his house. It was a one-room, mud hut with rat holes in it. His clothes were covered in plastic and hanging from pins nailed into the tree-branch studs that made the frame of his house.
Months would go by, and he would ask me if anyone had agreed to provide him one of our new houses. When I said "not yet" he would say, "Bondye konnen" (God knows). He continued to work hard as a teacher in the school. BGM hired him to help with the sponsorship program. He would always take on his work gladly and with a smile. Last year, when he got married, he had hoped he would get a house before the wedding so he would have a decent home to give his new wife. Still nothing. He kept praying.
Then, he and his wife had a baby. There was no way for them to care for a child in their current living conditions, so they moved in with her family. They continued to pray and wait on the Lord. Several weeks ago, someone donated funds ($5,885) to build a house in Haiti. We selected Pepe David and his little family. Pepe's house is now complete and so much has changed for them. We praise God for His wonderful provision. He is faithful."
Great Progress
We continue making enormous progress on the cafetorium at the school in Thoman, Haiti. Aside from the Hope Center we built in 2015, this will be the largest structure ever built in this village. Thousands of children for many years will benefit from this building. We praise God for this and we thank those who gave last year to our 2019 Fall Campaign to make this happen. The dream is now becoming a reality!
What Else is Happening with BGM?
No BGM staff have been laid off, and we pray it stays that way.
Most of our staff are working from home, and we have a video conference call every Tuesday morning. In addition, I speak with most of the staff daily, if not multiple times each day.
Our Montessori school staff members in the Delta are preparing lesson plans for parents of our children, calling the parents, and offering prayer support for the families.
We are moving forward with plans for construction of our first house in the Delta as well as the Economic Development Center.
As you know, we love our mission teams. Teams bring energy, excitement, knowledge, and resources to the areas where we work. Unfortunately, trips to Haiti were already suspended due to the civil unrest and now because of the coronavirus that has made its way to Haiti. In the Delta, we were having a record year in regard to the numbers of people going on mission trips to Jonestown, MS. Those trips are now temporarily suspended until we can get past the issues related to the coronavirus.
---
Change of Date
Our 2nd Annual Food for Life Event was scheduled for May 7, 2020. Due to the coronavirus, we have moved the date to July 30, 2020.
Last year, we raised over $170,000 for our Malnutrition Center for starving children in Haiti. This year, proceeds will go the Malnutrition Center and also to our two medical clinics in Haiti and our Montessori School in the Mississippi Delta.
We will share more information as we get closer to the new date.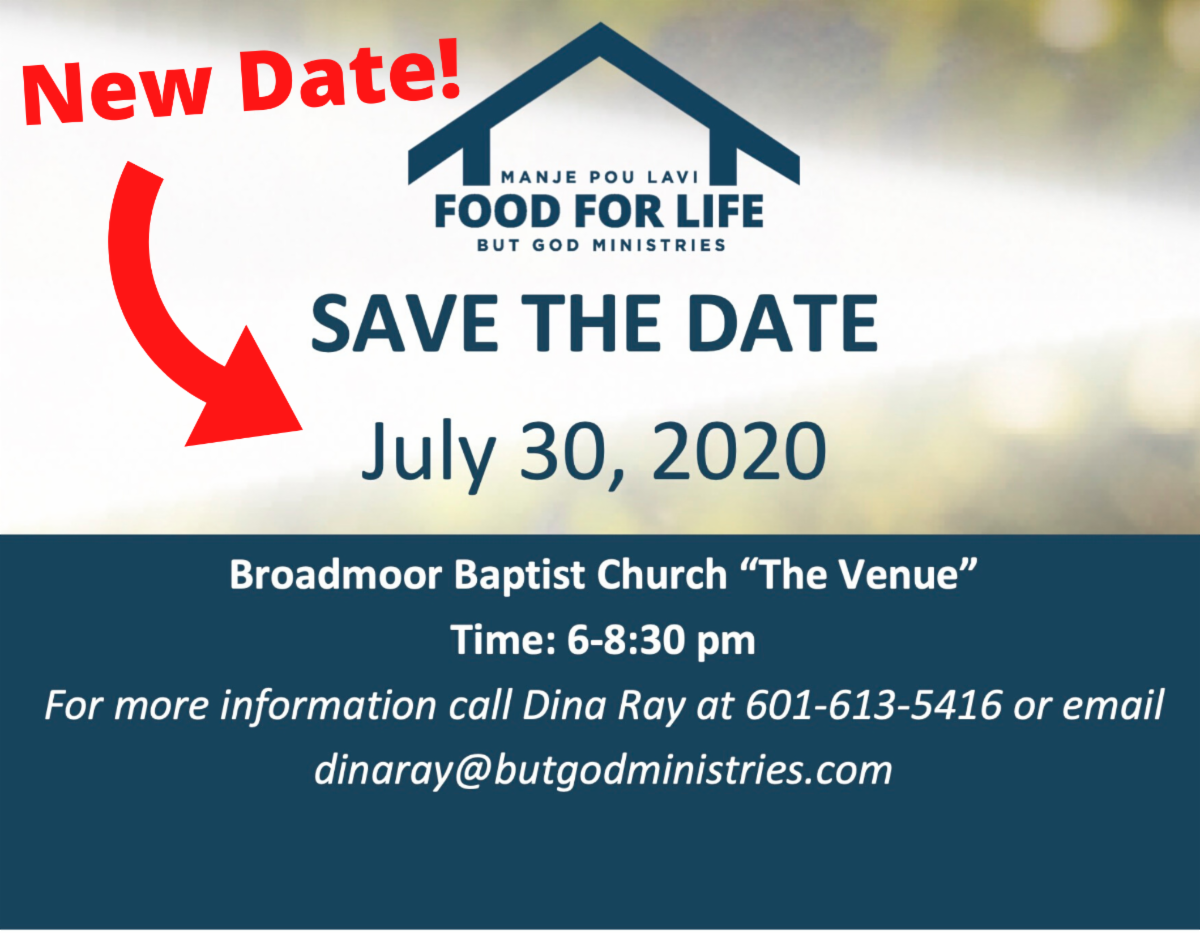 What You Can Do
First, please pray that the coronavirus that has appeared in Haiti will not spread throughout that country. Haiti does not have the resources or infrastructure to handle such a crisis.
Second, if you are a regular contributor to BGM we would ask that, if at all possible, you continue with those gifts. We remain committed to the work to which God has called us in Haiti and the Delta. Our work of sharing the love of Christ through building sustainable communities will be more important than ever in the days ahead.
---
Finally…
If you are in a position to give, you can give a general gift online HERE or send a check to: But God Ministries, 404 Fontaine Place, Suite 104, Ridgeland, MS, 39157.
In addition, I ask for your prayers for wisdom and energy for our Haitian staff, our Delta staff, our American staff in Haiti and the U.S., and our Board of Directors.
Can't Wait To See What God Does Next,
Stan Buckley


Executive Director