What's Going On In Haiti? …
It's a question I get all the time: "What's going on in Haiti?"
For many months, Haiti has experienced a time of civil unrest. This unrest has included, at various times, large protests in Port-au-Prince and a disruptive gang that works along the highway leading out of the city. As a result of this unrest, we have no missionaries working in Haiti and no mission teams serving in Haiti.
A second question I often hear is: "If you have no missionaries and no teams working in Haiti, what is happening with the ministries of BGM in Haiti?"
My answer to this second question is: "They're going great!"
Our goal from the beginning was to build sustainable communities in Haiti. One important part of sustainability is local leadership. We wanted Haitians giving leadership to all areas of our work.
The civil unrest has forced us to see if our ministries in Haiti could continue without our teams or our missionaries. Have we done a good job of training local leaders and implementing systems that are sustainable? I am thrilled to report that the answer to these questions is YES!
SCHOOLS. Thanks to the leadership of Moliere, our Haitian Superintendent of Schools in Galette Chambon, our three schools there are meeting daily, teaching, feeding, and blessing hundreds of children. The same is true of our schools in Thoman and Mathias, thanks to the leadership of Madame Genese and Pastor Mathurin.
CLINICS. Thanks to the leadership of Dr. Dasmar in Galette Chambon and Dr. Julot in Thoman, along with our other Haitian medical personnel, our two medical clinics are open each week treating thousands of patients this year.
CONSTRUCTION. Thanks to the work of Jacques, our Haitian contractor in Galette Chambon, we just finished the construction of a new house, and we are starting on another house next week. In Thoman, our Haitian contractor named Jonel is currently building the new cafetorium at the school.
CHURCHES. Thanks to the leadership of Pastor Eliasaint in Galette Chambon and Pastor Mathurin in Thoman, our churches are meeting weekly for worship and Bible study.
ORPHANAGE. Thanks to the leadership of Dieudonne and the other Haitian workers, the children in our orphanage are being cared for daily.
BUSINESSES. Thanks to the work of Ruth and Henry, the sewing businesses they started a few years ago continue to this day. The same is true for Silien and the Business Center he operates.
OVERALL. Thanks to our longtime friend and employee, Vladimir, all of our work in Galette Chambon is going really well. The same is true with Pastor Mathurin and his assistant, Kenterson, in Thoman.
The Future of BGM in Haiti
We continue to remain very excited and hopeful about the future of Haiti and our work in that challenging country. The work there can be very difficult for many reasons, and that's why most people quit. They give up. But not us. Not BGM. We remain committed to the work to which God has called us in Haiti. We have so many Haitian friends that we love and who have become part of our lives. I cannot imagine turning our backs on them just because the work is hard or the circumstances are unfavorable. In fact, that's even more of a reason to stay committed.
As soon as the unrest subsides, our missionaries will return to Haiti, and we will continue sending teams. We are hopeful that will happen within a few months. Until that time, we will continue working with our Haitian leaders via telephone, video calls, email, text, and social media communication. We will continue doing all the ministries we have always done and our Haitian employees will give leadership in our work, just as we always hoped they would!
Save the Date
May 7, 2020 is the date of our 2nd Annual BGM Food for Life Event. Last year, we raised over $170,000 for our Malnutrition Center for starving children in Haiti.
This year, proceeds will go the Malnutrition Center and also to our two medical clinics in Haiti and our Montessori School in the Mississippi Delta.
It's going to be a great evening including three of my favorite singers: Joel Thames, Chip Wilbanks, and Kathy Gautier.
Also, Jaimie Weber, our nurse who leads the Malnutrition Center, will be there to share the latest news. Plus, much, much more!
Tickets go on sale April 2, 2020.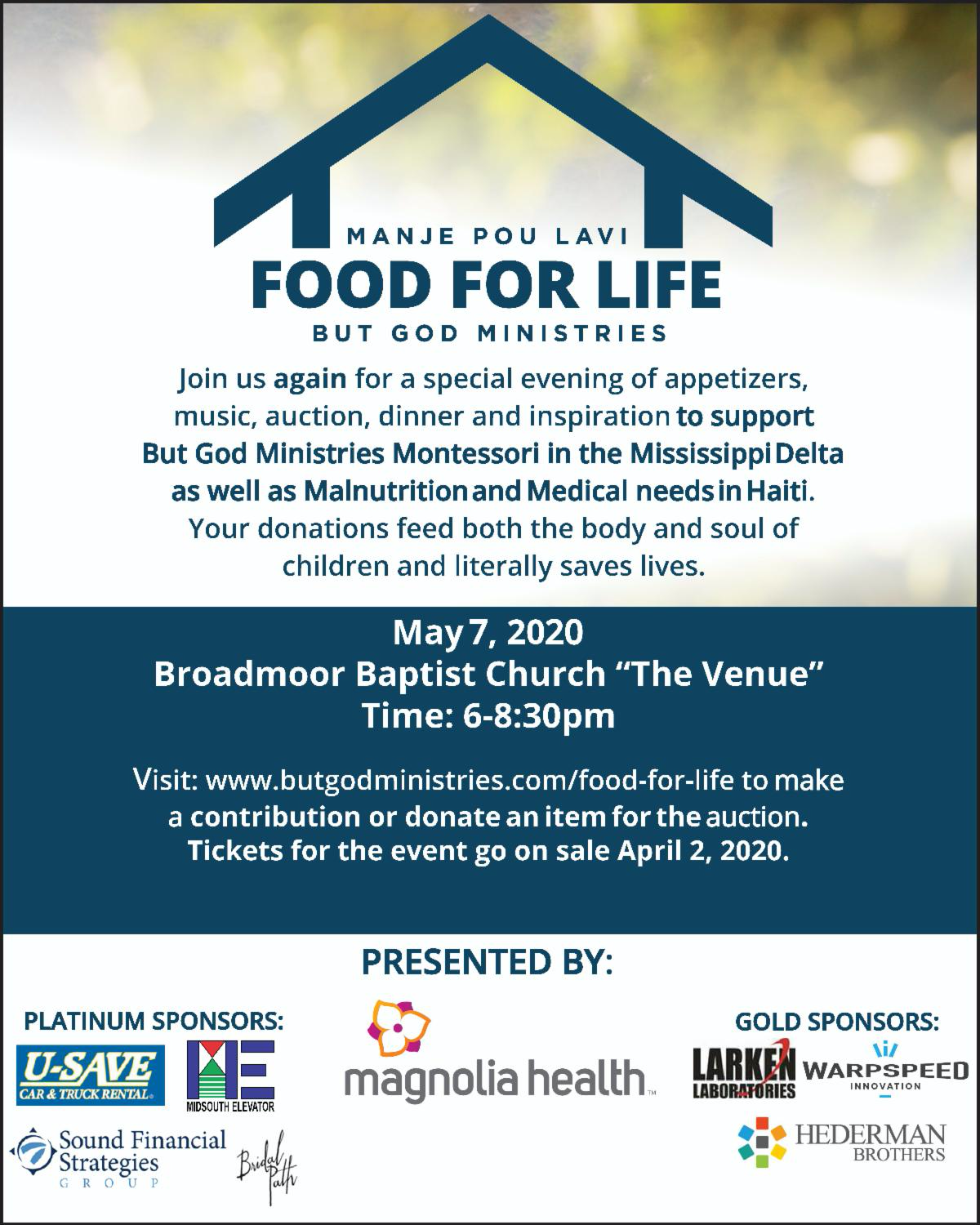 Mississippi Delta 
Things could not be going any better for our work in the Mississippi Delta. Last year we hosted 450 people on mission trips in Jonestown, MS. This year, we are expecting 700 people on mission trips.
We are on the verge of three big events taking place: opening the medical clinic, building the Economic Development Center, and building the first house. The funding is in place for all three of these, and we are simply working through the logistics of bringing them to reality.
NEW TEAM MEMBER. We are thrilled to announce the hiring of our latest full-time team member in the Delta. Amber Gray is our new Team Project Coordinator. She will be hosting our mission teams in Jonestown, MS and working with local residents to arrange much-needed projects in the community.
Amber comes to us with a Master's degree in Marriage and Family Counseling from Mississippi College and a Bachelor's degree in Psychology from Jackson State University.
She has a diverse background in process and project management, most recently serving as the Project Manager with the Jackson Medical Mall Foundation.
Amber lived in Chicago until the 6th grade, spent the remainder of her childhood in Jonestown, and recently returned to Jonestown.
We couldn't be more excited to welcome Amber as part of the BGM team!
Finally…
As you can see, God is using But God Ministries in marvelous ways. Also, as you are aware, it takes a great deal of resources to do what God has called us to do. Would you please consider financially supporting BGM and our work in Haiti and the Miss. Delta? Your gift will go a long way in helping us share the love of Christ in very tangible ways in these challenging places.
You can give a general gift online HERE or send a check to: But God Ministries, 404 Fontaine Place, Suite 104, Ridgeland, MS, 39157.
In addition, I ask for your prayers for wisdom and energy for our Haitian staff, our Delta staff, our American staff in Haiti and the U.S., and our Board of Directors.
Can't Wait To See What God Does Next,
Stan Buckley


Executive Director