New Dental Clinic Opening…
We are thrilled to announce that next Thursday, November 15, is the Grand Opening and Dedication Ceremony for our new dental clinic in the Mississippi Delta (Jonestown, MS). Everyone is welcome.
The following morning we will begin seeing patients. Thereafter, the clinic will be open every Friday. Rusty Hall and many others have worked very hard to make this dream become a reality. Next Thursday will be a wonderful day of celebration!
We've had many dentists, dental hygienists, and other dental personnel who have volunteered to serve on occasion on a Friday. Of course, we will continue to need others who are willing to serve. If you are interested, please call Rusty Hall at 601-983-1179 or email him at rustyhall@butgodministries.com.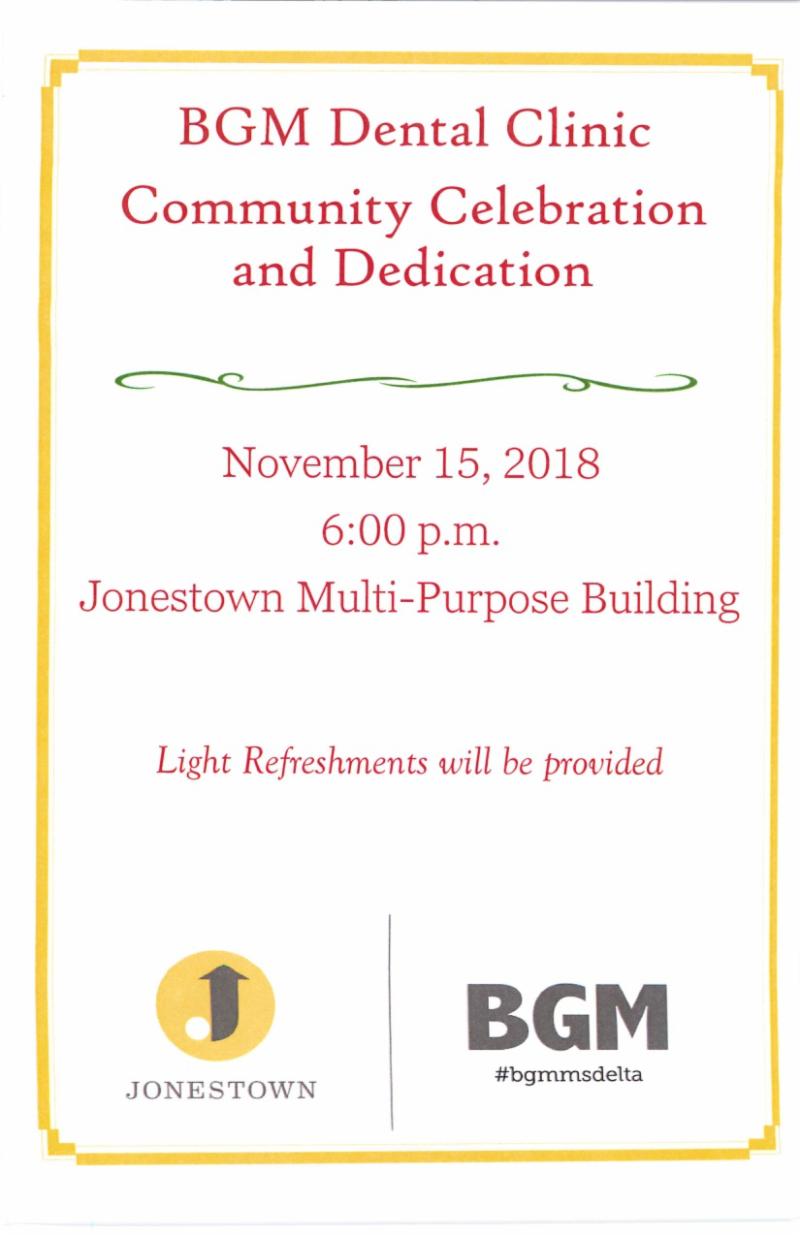 Much Progress in the Delta
We are very excited about all the progress that has been made since we started working in Jonestown, MS a short time ago. Here is a timeline of events since the day we arrived:
2015 – first exploratory trip to Jonestown by Stan Buckley and Rusty Hall
2016 – Kelly Sayle moved to Jonestown as first Community Manager
2017 – 6,000 sq. ft. Hope Center built, 11 mission teams to Jonestown, local business refurbished
2018 – Biggest year yet!

Legal clinic with Ole Miss law school opened
Dental clinic opened (Nov. 16)
Montessori school acquired and operate
23 teams with 300 people on mission trips to Jonestown
High school diploma program started w/four participants
Full-time Team Hosts hired
Full-time Life Center Coordinator hired
Dilapidated houses torn down and removed
Two community health fairs with screenings for sight, hearing, blood pressure, cholesterol, and pre-cancer
Numerous Bible studies, worship services, kids camps, and sports camps
While we are very grateful for all that has happened so far, we're really excited about 2019! Our plans for 2019 include opening a medical clinic, construction of new houses, and building of a brand new warehouse, heated and cooled, for businesses to come to Jonestown with new jobs for the people.
Malnutrition
We recently admitted 7 new patients in 6 days to our Malnutrition Center in Haiti. Our Director, Rachel Charpie, said that "in the past 6 months we have seen as many kids as we saw our whole entire first year. Why? Because our neighboring clinics are hearing about us and sending us more kids. These kids are much more than the numbers I'm sharing with you. They're much like your own sons and daughters, nieces and nephews, grandchildren… They have names and stories and moms and dads fighting for them. Will you pray for all of our staff and patients at Pen Lavi today?"
Katie Ethridge, our American nurse there, shared the following about one of our new patients:
"Malnutrition has many different faces. This is one of them. Meet Masline. Like countless others before her, Masline's body has fallen victim to the devastating attack of infection and lack of nourishment. This specific face of malnutrition decided to steal proper function of her cells, causing her little legs and feet to swell. That inflammation on top of her broken cells has caused skin breakdown all over her body. She is physically unable to process normal food anymore. This two year old has lost her ability to walk, her desire to laugh, and her hope to ever feel healthy again.
No matter the face of malnutrition, this thief of life only comes to steal and kill and destroy. But not today.
Today Masline started her fight against malnutrition, and we are all in her corner fighting alongside her.
Will you join us in praying for her recovery? Prayers for comfort and healing. Prayers for confidence in Jesus, our Bread of Life, for He will ALWAYS be victorious.
'The thief comes only to steal and kill and destroy; I have come that they may have life, and have it to the full.' ~John 10:10"
Awesome Work
Three weeks ago I hosted a team on a mission trip to our Hope Center in Thoman, Haiti. This was an incredible team from Colonial Heights Baptist Church in Ridgeland, MS. Like so many others, this team did a variety of ministry and they did it with love, sacrifice, care, and great attitudes.
During the week, they shared the gospel at the clinic and numerous people came to faith in Christ. They held a pastors' conference, taught a ladies Bible study, painted four houses, built 3 bed frames, installed two rain barrel and gutter systems, completed sponsor updates for children in the schools, preached at two different worship services, held four VBS's, helped with English classes, trained a new full-time Haitian employee, and gave temporary jobs to four Haitian men. What a week!
Amazing People in Galette Chambon
God has His people all over the world, including in Galette Chambon, or first location in Haiti. An 86 year old man name Julies Milfort is a big source of encouragement to our missionaries. As missionary Mickie West said recently, "He often comes to see us just to say hello or deliver a bag full of avocados or potatoes or some other yummy, fresh treat. Sometimes he brings friends with him to see if he can help them receive medical care.
He loves to minister to people and he loves to laugh. Over the years he came to be a highly respected member of our community. He may have many years behind him, but he can still walk over two miles down a long, rocky road to get here. He's our dear friend. We are thankful for his friendship."
Christmas Gift
Tired of shopping for the person who has everything? Looking for something for clients or customers? This Christmas, give a gift with lasting impact…give a gift to the But God Ministries SPHERES Programs.
S – Spiritual
P – Physical (medical and dental)
H – H2O
E – Education
R – Roofs (housing)
E – Economic Development (jobs)
S – Soil (access to healthy food)
Our SPHERES make a lasting impact in so many ways for thousands of people per year in Haiti and in Mississippi. Here's how it works:
Decide how many cards you want to send. (See front and inside design below.)
Select your gift amount per card, donated by you in honor of your recipients.
Make your donation to BGM for the amount of the total donation for all cards.
We will print and deliver/mail your cards to you by Thanksgiving.
To place your order by mail, print and mail this Christmas Cards Order Form enclosed with your check.
To place your order and donate online, Click HERE.
If you have any questions, call Dina Ray at 601-983-1179 or email her at dinaray@butgodministries.com.
Nursing Position Open
We still have a full-time, American, nursing position open at our Malnutrition Center in Haiti. If you or anyone you know is interested, please email me at stanbuckley@butgodministries.com.
We've Moved!
Please note that we have a new address for our home office. We only moved about 40 yards from our old office, but we have a new mailing address:
But God Ministries
404 Fontaine Place
Suite 104
Ridgeland, MS 39157
Finally…
As you can see, God is using But God Ministries in marvelous ways. Also, as you are aware, it takes a great deal of resources to do what God has called us to do. Would you please consider financially supporting BGM and our work in Haiti and the Miss. Delta? Your gift will go a long way in helping us share the love of Christ in very tangible ways in these challenging places.
You can give online HERE or send a check to: But God Ministries, 404 Fontaine Place, Suite 104, Ridgeland, MS, 39157.
In addition, I ask for your prayers for wisdom and energy for our Haitian staff, our American staff in Haiti and the U.S., and our Board of Directors.
Can't Wait To See What God Does Next,
Stan Buckley
Executive Director