Amazing Medical Care!
I recently returned from a trip to Haiti. Every time I go, I am blown away by all the amazing ministry taking place through BGM.
One of the most tangible ways we share the love of Christ is through our medical clinics. Last week, I spent a good deal of time at our clinic in Galette Chambon. While there, I saw dozens and dozens of people receiving health care that they would otherwise not receive if BGM did not have a clinic. Also, because we are building a sustainable community, we have Haitians in charge of all aspects of our medical care. Of course, our full-time American missionary and Nurse Practitioner, Tony West, gives oversight to the entire operation.
Below is a step-by-step look at how our patients receive care in Galette Chambon.
Old Friends are Best
The best part of our work in Haiti is making friendships that last for years. The people with whom we minister in Haiti are not merely statistics. They are our friends. They are our brothers and sisters in Christ.
Calling All Dentists!
After many months of work, we have finally received approval from the Mississippi Dept. of Health to open our dental clinic in Jonestown, MS. We will open the clinic on Fridays beginning the first week of November. Already, we have 84 people signed up to visit the clinic.
Now, we need dentists, dental hygienists and other dental personnel who are willing to serve on occasion on a Friday. If you are interested, please call Rusty Hall at 601-983-1179 or email him at rustyhall@butgodministries.com
This is a fantastic ministry opportunity. Of all the work we are doing in the Delta, the dental clinic is the one that people are most excited about. I suppose that makes sense since there are few things worse than a toothache!
New BGM Team Member
We are very excited to welcome the newest member of the BGM team. Dina Ray has joined BGM in the role of Development Director.
Dina grew up in Lake Jackson, Texas and graduated from Baylor University. She has worked all over the country and for several fortune 500 companies as well as a national non-profit. At BGM, she is involved in all aspects of fundraising, individual giving, and foundation grants. She moved to Mississippi in 2000 and is married to Ken. They have three high school age sons.
New Missionary in Haiti
Abby Winstead joined the BGM team in August as our Public Health Coordinator in Haiti. While she resides at our Galette Chambon location, she serves in our other Haiti locations as well. Abby is the public health programming director working to improve the health of the communities in which we serve through community programs and education.
Born and reared in Madison, MS, Abby received her Bachelor of Science in Kinesiology from Mississippi State University (2016) and her Masters of Public of Health from University of North Texas Health Science Center in Fort Worth (2018).
New Book is Here!
It's finally here! My first book has been published: "I Was Thinking . . . Musings and Meditations of a Lawyer, Mega-Church Pastor, and General Do-Gooder".
I am so excited about this new book and I hope it will be a great source of encouragement to many. The topics include inspiration, faith, family, service, and Jesus.
You can order the book online at:
https://stanbuckley.myvolusion.com
Or, you can mail a check ($15 plus $3 shipping) to:
Stan Buckley
100 Coventry Cove
Madison, MS 39110
And remember, a portion of the proceeds from the sale of the book will go to BGM.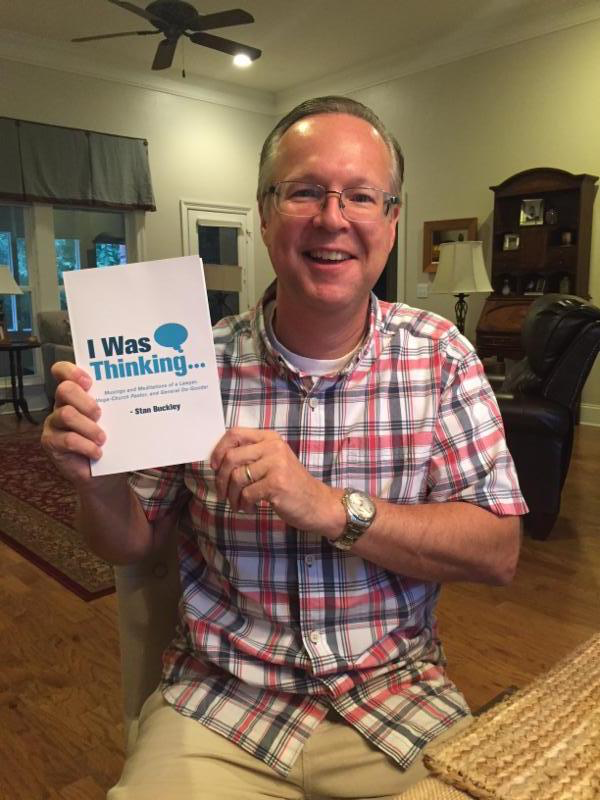 Nursing Position Open
We still have a full-time, American, nursing position open at our Malnutrition Center in Haiti. If you or anyone you know is interested, please email me at stanbuckley@butgodministries.com
We've Moved!
Please note that we have a new address for our home office. We only moved about 40 yards from our old office, but we have a new mailing address:
But God Ministries
404 Fontaine Place
Suite 104
Ridgeland, MS 39157
Finally…
As you can see, God is using But God Ministries in marvelous ways. Also, as you are aware, it takes a great deal of resources to do what God has called us to do. Would you please consider financially supporting BGM and our work in Haiti and the Miss. Delta? Your gift will go a long way in helping us share the love of Christ in very tangible ways in these challenging places.
You can give online HERE or send a check to: But God Ministries, 404 Fontaine Place, Suite 104, Ridgeland, MS, 39157.
In addition, I ask for your prayers for wisdom and energy for our Haitian staff, our American staff in Haiti and the U.S., and our Board of Directors.
Can't Wait To See What God Does Next,
Stan Buckley
Executive Director