December 29, 2014
December 29, 2014What a Year!
It's been another amazing year at But God Ministries. God continues to bless in ways we never dreamed possible. Here are just a few of the highlights from 2014:
-590 mission trip participants
-Thousands of patients seen at clinic and mobile clinics (over 27,000 to date)
-Hiring of full-time Haitian doctor
-Over 60 houses built to date
-Over 200 children sponsored in schools
-Dozens of part-time jobs
-27 full-time Haitian employees
-Orphanage expansion for new missionaries
-Bible studies, worship services, many weeks of VBS

Dr. Shubert, Haitian physician, working full-time with BGM
One of the greatest accomplishments of 2014 has been the construction of the new Hope Center in the mountainous village of Thoman. Similar to our first Hope Center in Galette Chambon, the new Hope Center has a medical clinic, dental clinic, house for American missionaries, 4 dorms that house 28 people for mission trips, kitchen, outdoor dining area, and two bedrooms for interns.
In addition, a missionary couple from Arkansas, Terry and Kathy Warren, has joined us full-time to live in Thoman and operate the new Hope Center. Since the Warrens moved to Haiti in November, we have already seen over 70 people in remote villages near Thoman come to faith in Christ and Terry has begun teaching a New Believers class for new Christians.

Kathy Warren and beautiful Haitian girl in Thoman

Terry Warren and precious Haitian boy in Thoman

Terry Warren leading Bible study at new Hope Center in Thoman

View from top level to bottom 3 levels of new Hope Center

Front of new Hope Center

Right hand side of new Hope Center; children playing near the top

New house being built this month for family living in mud hut in Thoman
Children who attend Pastor Mathurin's school in Thoman. We will be partnering with Pastor Mathurin to make sure the children get a quality education.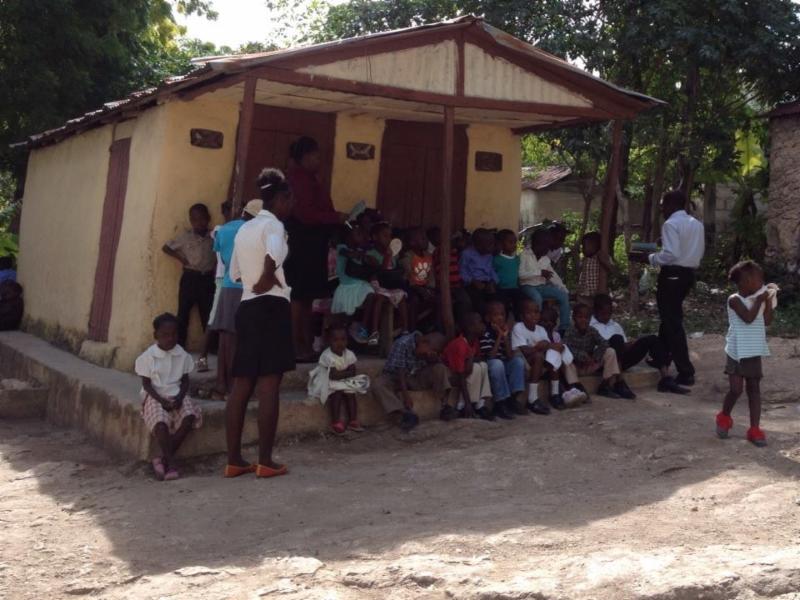 Children attending Sunday School in Thoman. We partner with their church to share the gospel and make disciples.

Precious child whose life is already being positively impacted by the Warrens and our work in Thoman
End of the Year
If you are thinking of an end-of-the-year gift, would you please consider BGM and our work in Haiti. We want, and need, to finish the year strong financially so we can continue to share the love of Christ in very tangible ways in Haiti.
You can give online HERE or send a check to: But God Ministries, 1440 North State Street, Jackson, MS, 39202.
In addition, I ask for your prayers for wisdom and energy for our Haitian staff, our American staff in Haiti, and our Board of Directors.
Can't Wait To See What God Does Next,
Stan Buckley
Executive Director
But God Ministries
---