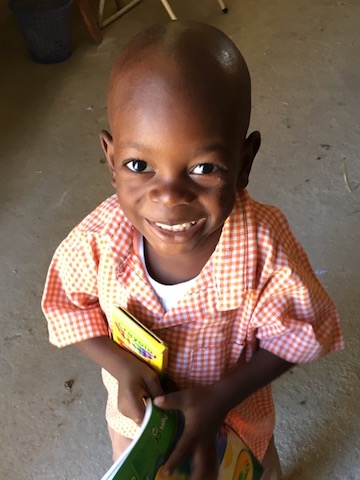 Galette Chambon School Supplies
Now you can donate toward the purchase of school supply bundles for children in any Galette Chambon school through our Galette Chambon Business Center. You can designate them for your sponsored child or donate to any child in need.
All bundles contain:
5 pencils
1 large eraser
3 blue pens
1 small manual pencil sharpener
2-3 notebooks
2 folders
Reusable canvas tote bag
In addition:
Grades 1-3 bundles have a ruler.
Grades 4-6 bundles have a geometry box.
Grades 7-12 bundles have a calculator.
Choose from these bundles:
Grades 1-3: $16.00
Grades 4-6: $24.00
Grades 7-12: $38.00
In addition to school supplies, you can also donate toward the purchase of additional items for children in Grades 7-12:
Grades 7-12 bundle plus 3 hours computer time: $47.00
Computer time only (3 hours): $9.00
These bundles are created at our new Galette Chambon Business Services Center and delivered to each child;  The educational computer time is also spent in the center.
So, in addition to providing for those in need, you are providing jobs and supporting business development in Galette Chambon. Thank you very much for your support!